Sexual Labyrinth
Sexual Labyrinth
Country
Italy
Length
70 minutes
Year
2017
Director
Morgana Mayer
Language
Italian
Subtitles
English
Screening
June 15, 10:30pm
June 17, 8:30pm
A brand-new erotic and blasphemic, provoking and explicit underground film! A wild mixture of sex and horror in the tradition of Italian sexploitation cinema of the 70s and 80s (Fulci, Joe D'Amato, etc.), but also as a postmodern feminist statement.
A young woman is kidnapped and imprisoned as a slave. A dominatrix evokes different erotic episodes in her mind, diving deeper and deeper into a surreal and sexy fetish fantasy world.
The feature film debut by Morgana Mayer had only recently its world premiere in Rome but can now already be seen at our festival!
Don't miss it!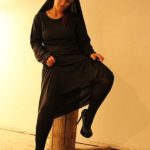 Trailer: